Kelly Ripa Takes Care of Herself to Take Care of Others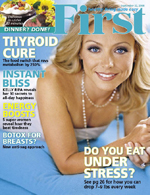 Courtesy First
While a "marriage and having kids really agrees" with Kelly Ripa, the co-host of Live with Regis and Kelly knows that to be successful in her roles as a career woman, a wife, and a mother, she must "take a half hour for myself every day." A mom to three kids — Michael Joseph, 11, Lola Grace, 7, and Joaquin Antonio, 5 ½ — Kelly is the first to admit that her actions "can feel selfish," but in the long run has realized that "it makes a big difference." According to Kelly, moms who don't take time out for themselves end up feeling "overwhelmed and resentful" when it comes to juggling their work and family. With a quick run in the park, Kelly — who says "it's crucial to know who you are and how you feel" — shares that taking care of yourself, in the end, betters your abilities to take care of others.
"You want people to feel they can count on you. I feel they can when I take care of myself."
For Kelly and her husband Mark Consuelos, dividing up the responsibilities with the kids are easy — "Mark helps with homework" while Kelly will take on "baking projects for school." From making cookies to taking care of the children, the 37-year-old actress jokes that "if our friends could see us now, they wouldn't believe what we've become," but says that the couple are happy with where they are in their lives. "We really enjoy what our life has developed into," shares Kelly, who admits she always tries her best at everything.
"I try to do it all, and I don't do any of it particularly well. But at least I try. Sometimes the cookies get burnt, but what are you going to do?"
For more of Kelly's interview, check out September's issue of First, on newsstands now!
Source: First