Husband Calls Katey Sagal an "Amazing Mom"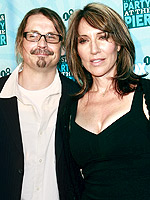 INF
In the new FX series Sons of Anarchy actress Katey Sagal plays Gemma, a mom who would do anything to protect her family. The show's director, Kurt Sutter, also happens to be Katey's husband — and he says the role was no stretch for his wife of nearly four years. Calling Katey an "amazing mom" to the couple's 19-month-old "little miracle girl" Esmé Louise and Katey's two children — Sarah Grace, 14, and Jackson James, 12 — from a previous marriage, Kurt explains that "Gemma is driven by a fierce maternal instinct, and Katey has that." Katey is quick to qualify that while as a mom she's "a little more polite" than the character she portrays on the small screen, one issue she isn't shy about taking a stance on is Kurt's love of Harley Davidson motorcycles. She says,
"I'm not down with it. We have three children."
Sons of Anarchy airs Wednesdays at 10 p.m.
Source: USA Today