David Boreanaz Entertained by His Mini-Rocky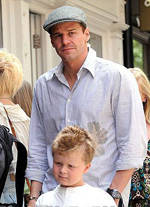 Simon Hammond/Splash News
Actor David Boreanaz may have a future boxer on his hands! The 39-year-old was recently watching Rocky III with his son Jaden Rayne, 6, when his little boy's personality kicked in. He yelled "Dad, watch me," then proceeded to pretend that he was training for a boxing match.
"I laughed so hard because here's this six-year-old trying to do push-ups and the punching bag — he's so intense."
David and his wife, actress/model Jaime Bergman, 32, have been married since November 24, 2001. His show, Bones, airs Wednesday nights at 8 p.m. on FOX.
Source: Entertainment Weekly