Billie Piper Enjoying Newly Acquired Pregnancy Assets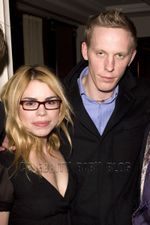 Dan Woolier/WireImage
Former pop star Billie Piper has taken a new approach for her last month of pregnancy — she plans to relax! Throughout her pregnancy, Billie — who is expecting her first child in October — has not slowed down in the least, spending this past summer filming the second season of Secret Diary of a Call Girl. Having to play call girl Belle de Jour onscreen made life on the set a bit hectic as the 25-year-old actress "grew bigger almost by the day." With the camera slowly showing less and less of Billie's body as her pregnancy became obvious, Billie jokes that by the time filming wrapped — and many body doubles later — "it was my face in profile surrounded by a nest of hair because my face started to fill out as well!"
Despite Billie saying "everything was swelling and pulsating; I looked really vulgar," when it comes to her newly acquired breasts, there is nothing but love. Billie — who says she has been flat chested all of her life — says "it's nice having boobs" and explains that when she wasn't so fortunate, she resorted to making up excuses "to make yourself feel better." However, for the actress, those excuses are no longer believable! "You convince yourself that it's okay and that people have to just learn to love them, and that someone will find them vaguely attractive at some point. But that's bulls–t! That's basically a load of bulls–t," explains Billie. Loving her new body has also brought on some problems, as Billie finds herself stuck in an odd situation — whether to keep her look conservative as she prepares to enter into motherhood or to show off her new curves.
"You love them so much and you really want to get them out a lot and just expose yourself to anyone who wants to see them. I'm really enjoying them, although it's kind of the most inappropriate time to get your [boobs] out. Should you go around showing what you've got or keep it under wraps because you're about to become a mum? It's a dilemma, but I just tend to get them out."
Aside from her new cleavage, Billie is taking the rest of her changing figure all in stride as she admits there's nothing to do about it, but take a look at herself "in the mirror and laugh!" Her positive decision to embrace her pregnant body has even spread to Billie's love of underwear, as she shares that there are some great, "sexy" options out there in the maternity sections, "you just have to go up a few sizes!"
Click 'more' to read about Billie's thoughts on her ex-husband's growing family and her plans for the future!
Calling her marriage to actor Laurence Fox "really, really great," Billie — who says her husband tends to be relaxed, but "we both have our moments" — also shares that the couple couldn't be happier for Billie's ex-husband Chris Evans, who is also expecting his first child with his wife, Natasha Shishmanian. As for the four adults plus their two newest additions spending time together in the future, Billie thinks it's quite possible, saying, "the kids will be mates." The singer goes on to say, "I'm sure they will be in each other's lives. We can all freak out en masse."
With "no immediate plans to go back" to her role as Rose Tyler in Doctor Who, Billie is more focused on taking in the last few weeks of her pregnancy and enjoying the uncertainty of the future. For now, Billie shares that her time consists of her "idyllic" home where she can think about her life. "This is a part of my life where I really don't know what to do. I'm just going to see what happens because I don't know what to expect, I don't know how I'm going to feel, I don't know how good I'm going to be at anything," says Billie. After a busy on-the-go life, she admits that she never has gotten the chance to "really sit down and smell the roses — ever — but perhaps I should do it more often. Because right now, life is really good, it couldn't be better."
Source: The Sun