Marcia Cross and Eden are Pretty in Pink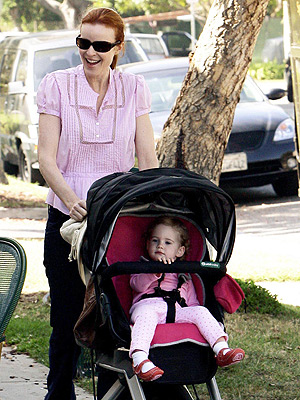 Most Wanted/Flynet
Marcia Cross, pushing 18-month-old daughter Eden, smiled while chatting with her nanny on a Wednesday walk in Brentwood. Marcia, 46, and the nanny — who pushed Savannah's Orbit — strolled around the block before returning to the car. Dad is stockbroker Tom Mahoney.
Eden wears Target's Circo Heart-Print Leggings in pink ($5).
Eden rides in an Orbit Baby infant system in black ($900) with an attached toddler seat in black/graphite/slate ($180). Eden's has a raspberry accessory pack ($50).