Bears' Charles Tillman's Daughter Recovering from Heart Transplant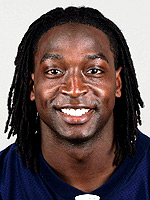 Getty
Every parent longs to hear the words that "Your baby is perfectly healthy," and no one wanted that more than Charles "Peanut" Tillman and his wife Jackie when their daughter Tiana was born six months ago. However, that was not the case. The Chicago Bears cornerback and his wife learned that their daughter suffered from cardiomyopathy, an enlargement of the heart that prevents proper beating, and she would need a heart transplant. Charles shares that "never in a million years" did he think his daughter would have to have a heart transplant. Even harder to face: the reality that comes with a donor organ. "The toughest thing that I had to battle with … is that I knew in order for my daughter to live another kid had to die," he explained.
Tiana received her heart transplant when she was three months old at Children's Memorial Hospital in Chicago, Illinois. In addition to being life-saving, her treatment was historic because Tiana received a Berlin heart, an experimental blood-pumping device that helps patients to survive longer while waiting for a suitable heart. She was the 160th child help by this device, but the first in the state of Illinois.
Following a successful recovery, Tiana, now six months old, was released from the hospital on Monday, August 25th. She is "smiling and kicking and cooing, all that stuff six month olds are supposed to do," shares her proud dad. Now that Tiana is back at home, the 27-year-old is hoping to focus more on his career.
"I tried to not let this overcome me, because I knew I had a job to do and season was coming up. Did I want to just like quit and give up and just be here all the time and just be with her? Oh, definitely. This is my daughter, man, I only had her three months."
Source: Chicago Tribune