Honor's First Flight a Success, Says Cash Warren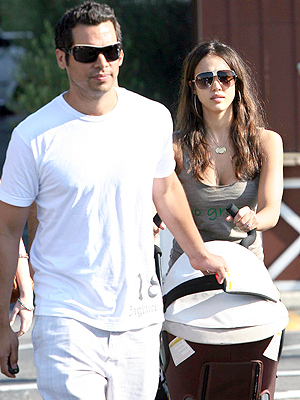 ATM/Flynet
Going to the airport and catching a flight is stressful enough, but as new parents producer Cash Warren, 29, and his wife actress Jessica Alba, 27, recently found out, adding a newborn to the mix can make things even more hectic! The couple — who were heading out to Denver for the Democratic National Convention — decided to make the short break their first trip together as a family and brought along daughter Honor Marie, 3 months. Arriving at the airport "way too close to our departure time" and having to exchange some choice words with "two lame photographers that were waiting at the airport," the family of three finally made their way through security. Arriving at their gate, Cash and Jessica's thoughts turned to their baby girl. The fear of boarding a plane with your newborn baby and having to possibly endure — and make other passengers sit through — a screaming child is "nerve-racking," says Cash. With their fingers crossed that Honor would snooze, the couple reached their seats and were granted their wish as their daughter fell fast asleep, something that Cash jokes is a bit uncommon for his little girl.
"To date, Honor has been a great baby. Rarely crying. Opting to express herself through simple Haikus or interpretive dance instead…yeah right. My girl's got opinions."
Honor is Cash and Jessica's first child. The couple quietly married in May.
Source: Cash Warren