Brooke Burke Balances Dancing Rehearsals With Family Time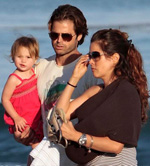 Karl Larsen/INFphoto.com
After facing strenuous rehearsals with dance partner Derek Hough for the past few weeks, Brooke Burke was more than ready to spend her one day off relaxing with David Charvet, and their kids Neriah, 8, Sierra Sky, 6, Heaven Rain, 19 months, and Shaya Braven, 6 months tomorrow. With her demanding training schedule for her spot on the new season of Dancing With The Stars, Brooke admits that she "finds myself challenged these days, like so many moms as they go back to work." While the actress shares that she was in for a shock when she realized how "physically and mentally challenging" the 8-hour dancing commitment — plus her family obligations — would become, Brooke is confident that she is in it for the long run. "I am 100% committed to doing the best I can on the show, but I am also 100% committed to being a mom," blogs Brooke.
So far, that positive attitude has worked well for the 36-year-old as she has developed a schedule with her "kids rotating turns to visit me at the studio." For baby Shaya, Brooke says, a trip to see mom includes a make-shift play area where he "watches and listens to the music," occasionally even getting "a few spins on the dance floor" from Derek! While the kids special time with their mom is working out now, with Neriah and Sierra heading back to school this week, the dancing duo have decided to switch studios to accommodate the girls. Brooke explains,
"I really miss my kids when I am away from them so I am trying to schedule my rehearsals sensibly, so I can still be there for the important day-to-day stuff. I will be moving to a studio closer to [the girls] so I can still pick them up [from school] in the afternoon."
Although Brooke's schedule is very demanding, she is not in it alone. According to Brooke, David — who is "really excited for me and very supportive" of her dancing — has "been picking up the slack with the kids." Saying she is "grateful" that she can count on her fiancé while she is off rehearsing, Brooke shares that he is "a wonderful father" to their children.
Rain and Shaya are Brooke's children with David; Neriah and Sierra are her daughters with ex-husband Dr. Garth Fisher.
The new season of Dancing With The Stars premieres Monday, September 22nd.
Source: Baboosh Baby