WeeRide Kangaroo Child Bike Seat: Take Your Kid Along For the Ride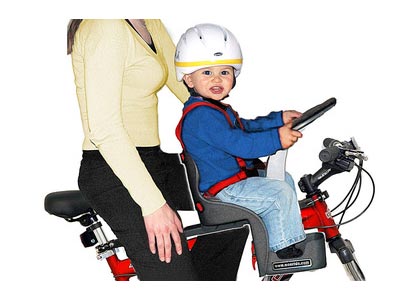 WeeRide Kangaroo Child Bike Seat
One of my favorite things to do with my 3-year-old in the summer time is ride my bike with her to the beach in the mornings. I was desperate to try out one of those front-mounting bike seats I kept seeing around town but the first one I tried proved not to work well with our particular bike and tall daughter. Finally we discovered the WeeRide Kangaroo Child Bike Seat and have been happily riding to the boardwalk every morning since.
Click on the extended post to find out why I chose the WeeRide over its competitors and to get a really great exclusive deal on your WeeRide Child Bike Seat!
There are three reasons I chose the WeeRide over the competitor that I tried. For one, the mounting system felt more secure because instead of securing it onto the handlebars it secures directly onto the frame of the bike (I happen to have a mountain bike but this seat works with most bikes). This centers her weight onto the bike, so that I don't lose my balance and so that her weight doesn't throw me off; since she is truly centered, her weight actually enhances my balance. It also doesn't obstruct my view at all.
Second, I liked the 'extras' that the seat came with: a lot of padding, footrests that keep her feet secure and are adjustable, and a padded hand grip so that she has something to hold on to. The seat also has a five-point harness to secure her safely.
The final thing I loved, and what ultimately sold me, is the fact that the seat can be easily removed and put back on. This needed to be an option for me because I often drive my bike over to a path and in order to hook the bike on my car I need to be able to remove the child carrier (this is good for the child carrier too). I also sometimes go out riding really early when my daughter is still asleep and don't want to take the carrier with me when I ride alone.
The idea of a front-mounted carrier appealed to me for many reasons but mostly because I loved the idea of being able to ride my bike and have my daughter in my vision. I taught her a few safety rules, mainly that we don't talk when riding because mommy needs to listen to what is going on around her, but sometimes she does ask me a question and I like being able to talk to her. She also loves sitting here and I do feel safer having her in front because when I had her behind me I was always turning around to make sure she was okay. We don't ride through high-traffic areas and we practice a lot of common sense which I think is important regardless of where your child safety seat is mounted.
The maximum weight limit for this (and most other) seat(s) is 4-years-old and 40lbs but the steel bar could definitely support more weight than that. However, I think that we will outgrow this seat in height way before we outgrow it in weight, because once your vision is obstructed due to your child's height you obviously can't use it anymore. Luckily I think we have a long way to go until then.
CBB Deal: Buy the Kangaroo Center-Mounted Child Bicycle Carrier ($59.99) or the Limited Edition ($79.99) and receive FREE SHIPPING, a FREE TODDLER HELMET and a FREE GEL SEAT COVER FOR PARENT'S BIKE. Go to www.kidzproducts.com to pick your model and call 866.849.7555 to place your order. When you call, reference the deal you saw on the Celebrity Baby Blog! (Expires: 09/30/2008).
— Teba