Meet Jack Black's New Baby Thomas David!
Ramey
Coldwater Creek park was teeming with celebrities on Labor Day! Jason Bateman and daughter Francesca, Sara Gilbert and kids Levi and Sawyer, and Jack Black and family were all in attendance, but the star of the show was 3-month-old Thomas David Black, Jack and wife Tanya's newest son. In his first public appearance since his May birth, Tommy stayed cuddled close to mom while 2-year-old brother Samuel Jason and dad explore the park.
Jack sports a "Gabba in the Round" tee from Kidrobot ($40), while Sammy wears a Small Paul Julius toddler tee ($18; brick red, navy). Tanya wears Tommy in a Baby Bjorn Air in gray/white ($75), and pushes an Orbit stroller system in black/slate ($900). On his feet, Tommy wears Trumpette's Star Socks ($26 for set of six).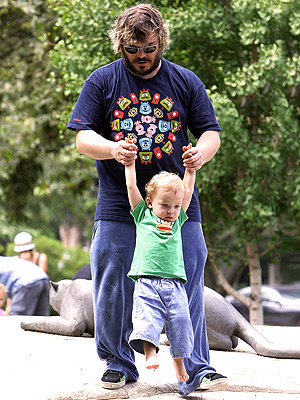 Fame