Matthew McConaughey Says Levi Makes Life "Cooler"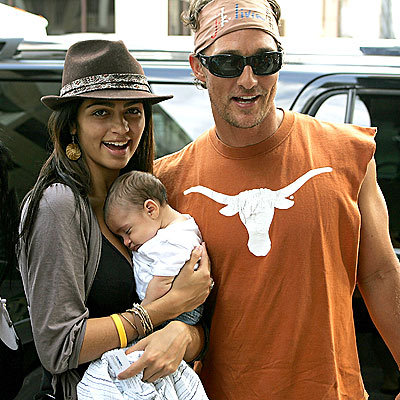 Gary Miller/Getty
When Matthew McConaughey borrowed the line "just keep livin'" from his character Wooderson in the film Dazed and Confused and applied it to his everyday life — including even his JK Livin Foundation — little did he know that one day the motto would also apply to his own children. Whether it's walking the sidelines of a University of Texas football game or walking the red carpet with his famous parents, Levi Alves McConaughey, 8 weeks, is indeed living large. "We're having a ball," Matthew, 38, tells Entertainment Tonight, "We're taking him everywhere…he's getting out in life. He's livin.'" Calling Levi a "little prince" who has made life "cooler," Matthew agrees that parenthood changes everything.
"There's a different way of walking around the world, the way you see it, because you're … doing it for three. There's a responsibility that comes with fatherhood that I've always looked forward to, and I finally did it."
Number 'three' in the equation is, of course, Matt's partner Camila Alves, 25. The trio are a "family unit" Matt says, but anyone holding out for news of an engagement may be in for disappointment; when asked if the couple has any plans to marry Matt replied simply that they're "doing fine." For now, Matt and Camila are focusing all their efforts on Levi, who continues to amaze.
"[We're getting] a little less sleep because you have an alarm clock about every three hours when he's waking up hungry, but it's a good wake-up. He's…starting to clock in, to imitate facial expressions that I'll give him, he can hear my voice, and so every day something new is happening."
As for Matt and Camila's decision to plant Levi's placenta in a local orchard, Matt explains that "it's more than a ritual, it's a way to give back to the earth what mother nature built up over nine months." Speaking of as much, from the sound of things, father and son both share an affinity for the ocean. "We've already started putting him in the water…there's nothing natural like that, that he's afraid of."
Matt's latest movie, Surfer, Dude, is in theaters this Friday.
Source: Entertainment Tonight