Jools and Jamie Oliver Offer Daughters Balance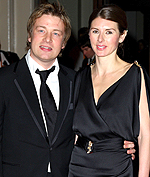 Mike Marsland/WireImage
A self-proclaimed "total control freak" when it comes to her daughters Poppy Honey, 6 and Daisy Boo, 5, Juliette 'Jools' Oliver says her husband — famed chef Jamie Oliver — is the parental yin to her yang. Whether it's her habit of declining play dates over fears that another mom isn't a safe driver, or her MRSA-killing hand soap in the powder room, Jools admits that she can be a bit "overprotective" of the girls; with Jamie, however, the pendulum swings in a different direction entirely. "We took them to Disneyland in Paris and Jamie insisted on taking them on rides they weren't tall enough to go on and I said, 'I hate you for this,'" Jools tells the Daily Mail, "But I know they need the balance. They need Jamie to give them some germs, some mud and some danger."
Jools says that all she ever wanted to be was a mom, and thus she has no regrets about staying home with the girls while Jamie works 12-hour days. Although the grass sometimes appears to be greener on the other side, the couple is happy to maintain the status quo.
"I am up at six every day because I want to make the girls porridge before they go to school, and because I need the time to do the stuff I think I should do because I don't have a job. It's guilt, I suppose. But bringing up children properly is draining to the hilt, and there are times when I would rather have Jamie's job. We often say we should job swap and I say to him, 'But you would never do as good a job as me.' To be fair, I couldn't do what he does."
Click 'More' to read about Jool's decision to write a children's book.
Despite the fame enjoyed by her family, Jools strives to give the girls as normal an upbringing as possible, and she feels that fortune has nothing to do with leading "a simple, traditional life with your children." "I accept that I'm lucky, but I don't think you need endless money to make a nice life for your children," Jules says, "I'm sure millions of people would tell me that's true."
"You can live in a council tower block and still have wonderful ethics — read your children stories every night, take them to places like a farm at the weekend. If Jamie and I lost everything, I would still raise them in the same way. I'm just a normal mum."
One story Jools has almost certainly read the girls by now is her own first foray into the world of children's literature: The Adventures of Dotty and Bluebell. With title characters loosely based on Poppy and Daisy, the collection of four stories tells the tale of two sisters through each of the four seasons. Jools says she was motivated to write the book after she grew frustrated by the current state of children's literature.
"All the books that I was buying for my girls were so hard to read — and grammatically incorrect — that they drove me mad. I couldn't find the kind of normal stories they wanted to hear, and I found myself falling back on Enid Blyton — they love the Secret Seven — and the My Naughty Little Sister books by Shirley Hughes and Dorothy Edwards. There didn't seem to be any new books offering those kind of simple stories, so I thought, why not write them?"
Jools and Jamie were married in 2000.
Source: Daily Mail