Timing is Everything For Jennifer Lopez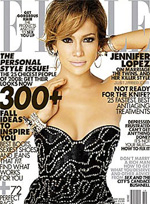 Courtesy Elle
When Jennifer Lopez and Marc Anthony first began trying for a baby and found themselves unsuccessful, they didn't panic. Instead, the 39-year-old songstress tells Elle, they took their difficulty conceiving as a sign. "We knew nothing was wrong with either one of us," Jennifer explains. "I had been checked, and he had kids already."
"I knew something's not ready here, in my head or in my life, and when it is, I know it's going to happen."
Something happened, indeed! The couple welcomed twins Max David and Emme Maribel, 6 ½-months, in February and Jennifer says she knew early — and instinctively — that her dreams of motherhood were about to be realized. One day while sitting down to have her hair and makeup done she says she felt "the weirdest little … flourish" that let her know she was finally pregnant. "My makeup artist said 'What's the matter?'" Jennifer recalls. "I didn't say anything, but in my head, I was like, I have life inside me!"
Click 'more' to read about how Jennifer spent the end of her pregnancy.
With the business of making a baby behind them, there was still show business at hand for the couple. Jennifer and Marc completed their nationwide concert tour in early November, just months before she would give birth. That she continued to take to the stage night after night well into her second trimester earned Jennifer some much-deserved downtime when the couple retired to their Long Island home. Jennifer told Marc "I did the superwoman thing, I finished the tour — now I need you to take care of me." She adds,
"This is the first time in my life where I'm just going to be a little bit selfish. I don't know if I'm going to have kids again, so I want it to be a beautiful experience. I don't want to have any drama. I want to just be smiling every day."
It wasn't all take and no give, however. Two weeks before she delivered the twins, Jennifer — who says she felt "very womanly" while pregnant — commissioned a book of photos of herself as a gift for her husband. "I was like, How am I going to rock this moment of my life?" she says. "Marc was in a dream. He loved it."
Source: Elle