eco ike – Other Kids Will Be Green with Envy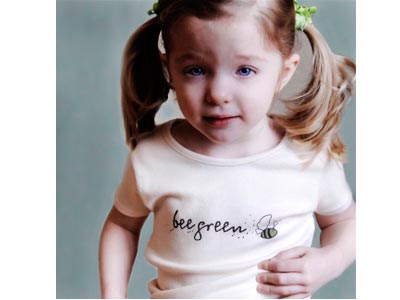 eco ike bee green tee
I'll be the first to admit that the irony is not lost on me. My son is sitting at the table with a plate full of french fries, happily dipping them into a huge mound of ketchup. And he's wearing a beautiful, organic cotton shirt from eco ike that proudly states, 'I'm organic' It's a shirt he picked out himself when I showed him all the adorable options on the eco ike website. And he absolutely loves it. Just as he also loves the shirt that he picked out for his baby sister that tells the world to 'bee green.'
eco ike sent us these two, soft-as-a-baby's-bottom organic cotton tees ($24 each and available in sizes ranging from 6 months to 3T) as well as an organic cotton 'eco chic' tote ($17) that has been hand screen-painted with water-based inks. My son reaches for his 'I'm organic' shirt all the time. I truly believe it's because it's so soft. Or so cute. Either way, he wins! And when my little daughter's belly fills out her eco ike shirt… well that's pretty darn adorable, too. And me jetting about town with my stylish tote? I think you see where this is going…Cuteness aside, all of eco ike's products are made from 100% organic cotton (grown in the U.S.A), water-based inks or natural dyes that are PVC-free, and recycled packaging. Their motto is, 'green t's and products for a happy, healthy world' and they certainly live up to it.
eco ike recently launched three new adorable tees: the love tee, the hope tee, and the joy tee (all $22 and available in sizes 3 months to 24 months). Still printed with the same eco-friendly inks on the same ridiculously-soft organic cotton. We'll definitely have to get our hands on some of these! After having the chance to try their sweet tees and handy tote, I'm in love with eco ike and, admittedly, rather jealous of my children. I love that the line is limited — just the right number of selections. I love that the line is creative — each shirt is unique and delightful. And I love that the line is all organic.
Now that I think about it… that ketchup my son was dipping his fries into was organic, too. Whew.
CBB Deal: Shipping is free at www.ecoike.com when you spend $50 or more and use coupon code 'CBB'. (Expires September 30, 2008.)
— Stephanie