Max Is a Mover and a Shaker, Says Christina Aguilera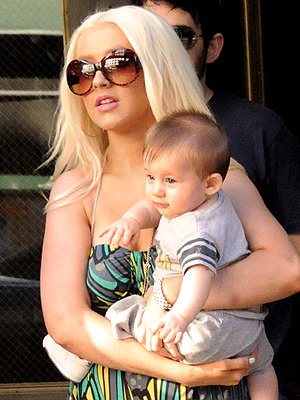 John PKL/Splash News
In New York promoting her new fragrance Inspire, Christina Aguilera took some much needed family time on Labor Day visiting the Metropolitan Museum of Art with her husband Jordan Bratman and their son Max Liron. Introducing Max to museums for the first time, the 27-year-old songstress — who calls her visit to New York "a big family trip" — was pleased they made it to the featured exhibit just in time, saying "it was the last day they were showing their superhero exhibit, so I wanted to catch that actually."
With her busy schedule — and several upcoming projects — Christina knows that some nights "Mommy's going to miss bedtime," but is not worried as she is quick to add that Max is "in good hands. Daddy's around." For dad Jordan, a night watching 7-month-old Max — who is actively crawling and cutting teeth — certainly keeps him busy, as Christina shares that he is definitely a "mover and a shaker!" Admitting she "really lucked out" with a great baby, seeing her "happy, smiley guy" who is constantly "moving all around," couldn't make Christina happier as she adds, "he just lights up my world."
Christina is also in the process of recording an album, scheduled to be released next year. While she doeslook forward to "expanding our family eventually" with Jordan, "fornow, Mommy's going to work. Mommy's gotta do…mommy stuff now!"
Check out new pictures of Max and comment on them here!
Source: USA Today; Entertainment Tonight — Click here to watch her interview.