Will Smith: Seeing Kids Succeed is "Perfection"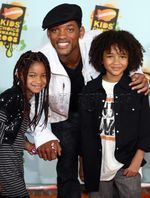 Splash News
That his children Jaden Christopher Syre, 10, and Willow Camille Reign, 7 ½, have decided to pursue careers in acting sits well with actor Will Smith, 39. Because he knows the industry so well, it puts him in a unique position as a parent. Noting that "[Acting is] what we do for a living, so I mean there is nothing in this world that I know more about than making movies," Will adds,
"If my kids wanna do that it's a perfect opportunity for me to be a successful parent. So for me it's, it's almost perfection."
Jaden and Willow are Will's children with wife Jada Pinkett Smith. He is also dad to Trey, 15 ½, his son from a previous marriage.
Source: 3 News