Solange Knowles Is "A Mother First," Beyoncé Says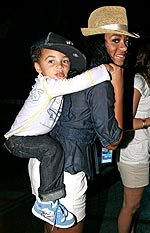 Johnny Nunez/WireImage.com
In a sit-down interview with CBS' The Early Show, songstresses — and sisters — Solange Knowles, 22, and Beyoncé talked music, family and where they see themselves in 10 years. Calling her sister an "amazing songwriter and performer," Beyoncé, 26, nonetheless said it's Solange's 3 ½-year-old son Daniel Julez who will continue to define her sister's life. "[Solange] is a mother first," Beyoncé explains. It's that dedication to motherhood that Beyoncé, who married rapper Jay-Z in April, says she hopes to learn from someday.
"So I'm sure by then, even though I'm in absolutely no rush, I'll have children and I'll be asking her all of the questions about parenting and we'll be just as close as we are now."
Julez is Solange's son with ex-husband Daniel Smith Jr. Her new album Sol-Angel and the Hadley St. Dreams is in stores now.
Source: The Early Show