Quote of the Day: Matthew McConaughey Says "We're a Family Now"
He may be the recipient of such titles as PEOPLE's 2007 "Bachelor of the Year," but new dad Matthew McConaughey is now a reformed family man. He tells People.com,
"I always wanted to be a father and thought it would be great, but itjust took the right woman and the right time to make it all happen. [Camila] is the love of my life. We're a family now. I see thefuture and it's clearer to me. Walking around with this coolresponsibility all the time, it's a wonderful thing."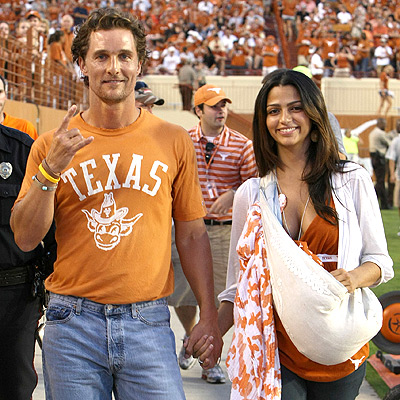 Ralph Notaro/Splash News
Tune in to E! News at 7 p.m. ET/PT tonight for more on People.com's stories and photos of Matthew McConaughey, Camila Alves and baby Levi.
Source: People.com
Camila wears Levi in a Serena & Lily Market Sling in Flax/Sky Blue ($129).
Tucked into the sling is an aden + anais Camo Muslin Wrap in Orange ($30 for two).