Why We're Loving Peg Perego Prima Pappa Best Highchair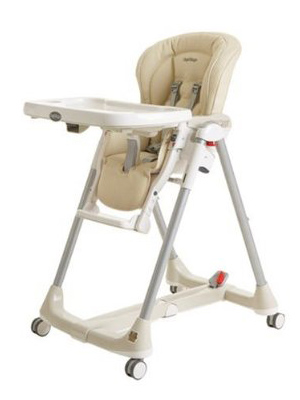 Peg Perego Prima Pappa Best Highchair
The aptly-named Peg Perego Prima Pappa Best Highchair ($229), with its ultra-soft 'Prima Classe' upholstery, unique storage solutions and ease of use, has me singing its praises. The high chair seat comes available in two shades — Paloma, a butter creme tan, or Nuvola, a light grey. Although the fabric really does look like leather, it's not, and I was able to easily wipe baby food off of it. The Prima Pappa Best arrives fully-assembled and took just two seconds to unfold. The cushy seat has four positions and there are seven heights to choose from.
The double tray is actually a tray with an insert along with a cupholder that snaps easily over the main tray. Both are dishwasher safe. When you're done with the double tray, simple clean it and hang it on the back legs; it attaches and detaches neatly from the two bolts on the back legs. There is storage for clean bibs or utensils in the mesh storage pocket on the back of the seat. As for safety features, the five-point harness was easily adjustable and very secure — it will deter even the best of the baby Houdinis. You can also lock the back wheels, which is a great feature to have when your toddler wants to push the high chair around the apartment!
Be sure to check out our TEN BEST Highchair gallery!
— Nancy