Music Will Always be a Part of Faith Evans' Life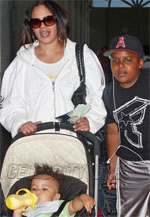 Bauer Griffin
Music plays a big part in Faith Evans' life and that of her children — Chyna, 15, Christopher 'CJ' Jordan, 11 ½, Joshua, 10, and Ryder Evan, 17 months. The 35-year-old shared that impact of the music industry goes "all the way down to my kids," sharing that it's okay that she isn't in the recording studio now because "my daughter produces, writes and records songs with her brothers" to keep the songs flowing in their household. When it comes to her music career, Faith admits that her life is now "family oriented" and that she's "not in a rush to put together an album." Instead, she has spent time at home and is ready to release her new memoir, Keeping the Faith.
"The most work I've done outside of kids and school was this book. My daughter's fifteen, so I've got to be around. Music is still my love, but I've got to do things that make sense for my family life."
Chyna's father is producer Kiyamma Griffin and CJ's is the late Notorious B.I.G. Joshua and Ryder's dad is Faith's husband Todd Russaw.
Source: Black Voices