Sheryl Crow Says Farm Gives Son a Shot at a "Normal Life"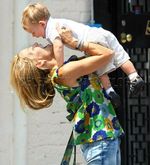 INF
Songstress Sheryl Crow says she's aware that there will come a time when her son Wyatt Steven, 16-months, will no longer be "game" for criss-crossing the globe in support of her music career. That's why she's making the most of her current world tour. "Wyatt goes everywhere I go, and it's a fantastic time to have him on the road," she says, "When he gets a little bit older he may not want to go out on the road with mom, he may want to stay home with his friends, so right now it's great."
When mother and son are ready to disembark from their tour bus, Sheryl, 46, says her favorite place to be is her farm in Williamson County, Tennessee. Noting that Los Angeles, where she also has a home, is "a lot more celebrity-oriented" Sheryl says "out here, my kid can grow up with a normal life."
Source: People