A Thermometer To End All The Squirming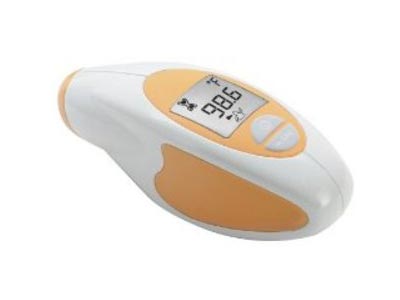 Safety 1st Hospital's Choice Accu-R.A.T.E. Forehead/Underarm Thermometer
Even though he normally won't let us get any of the six different thermometers that we have anywhere near him, when my almost-3-year old son Ben had a fever, he was willing to let us use Safety 1st Hospital's Choice Accu-R.A.T.E. Forehead/Underarm Thermometer ($42.99) on his temple. For comparison, we also took it from his underarm, with the same reading.
It gives an accurate reading in just 7 seconds. R.A.T.E. stands for Rapid Accurate Temperature Establishment – this technology calculates the exact rate of heat transfer from your child's blood vessels to the surface of the skin. The LCD screen was large and it was really easy to switch from forehead to underarm mode. Temperature reading is available in Celsius or Fahrenheit.
This worked well for our toddler. We still use the rectal method for the baby because it's the most accurate way to take a temperature, but we're happy to be able to use the Accu-R.A.T.E. Thermometer on our older child.
Deal: Get free shipping during August and September at Safety 1st's Online Store.