Mark Consuelos Juggles Parenting and Career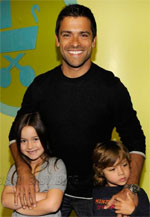 Kevin Mazur/WireImage
Celebrity parents Mark Consuelos and Kelly Ripa are two busy people — not only are they parents to Michael Joseph, 11, Lola Grace, 7, and Joaquin Antonio, 5 ½, but they act, host and own a production company. However, Mark admits that "it's not that bad" when it comes to juggling it all. Kelly "has a morning job and she's done by, like, 10:30-11 o'clock," and "when I do work it's … in fits and starts. I go away for a few weeks at a time, and then I'm done." Just because the couple seem to juggle everything with ease, that doesn't mean that they don't turn down certain projects because it would be too much — in fact, it's just the opposite! Mark shares that "we've both made a few sacrifices in not taking work when it seems the schedule would be a little too intense." Even though the couple love being parents, don't expect to see another little Consuelos added to the bunch, Mark says.
"No, three is a great number."
Mark and Kelly, who met when both were appearing on the daytime serial All My Children, were married May 1, 1996.
Source: Scripps News