James Morrison Says He's Ready for Fatherhood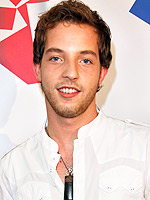 Jon Furniss/WireImage
As he prepares for the release next month of his sophomore album, a follow-up to his popular 2006 debut Undiscovered, James Morrison has yet another milestone looming large on his horizon — fatherhood. The 24-year-old singer and songwriter is poised to become a dad, for he and longtime girlfriend Gill expect their first baby in September. While the timing might be too much for some, James says it couldn't have been better. "I was very much a young lad when my first album came out," he says, "I feel as if I'm a man now."
"I'm getting ready to be a father, which is the biggest thing that's ever happened to me. I'm very excited by it, but it also makes it easier to get on with other things. It's not just about me any more."
Songs for You, Truths for Me hits shelves September 29.
Source: Daily Mail