Injury Allows Randy Orton to Witness Daughter's Birth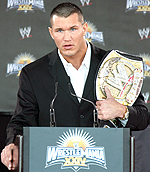 Andy Fossum/StarTraks
When a professional wrestler suffers an injury that takes them off the road, they tend to be frustrated and unhappy, but not WWE superstar Randy Orton. The 28-year-old suffered a broken collarbone in early June and was able to spend time with his wife Samantha before she gave birth to their daughter Alanna Marie on July 12th. "Being able to be home with my wife the last months of her pregnancy and witnessing the birth of my baby, which could have been missed if I was on the road, you know that would have been horrible," said a thankful Randy.
He's also prepared for the fact that he may not be there for some of the milestones in Alanna's life, but thanks to technology, he can at least see her every day. "I have a Mac computer that has the iChat feature so I'm able to talk to her and see both of them at night," said Randy, adding that "I can really stay in touch with them with today's technology, so that's great." Wrestling will always be a part of Randy's life, so it's only fair that Randy credits one of his co-workers, Fit Finlay, and his wife Mel for helping to name Alanna, he explained.
"Mel and myself had been talking, about a year ago when I was deciding to have a baby. Shortly thereafter I was going to get married, and my wife and I wanted to have a baby right pretty quick. We were discussing names and she had mentioned how she had a daughter named Alanna, and I just loved that name."
Source: The Sun