Jeff Gordon: Wife is "Greatest Mom on the Planet"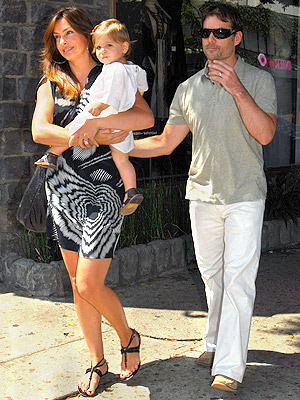 Splash News
With the season in full spring, NASCAR driver Jeff Gordon is the first to admit that his busy schedule on the race track allows for limited time with his wife, Ingrid Vandebosch, and their 14-month-old daughter, Ella Sofia. Although the family tries to travel together as much as possible, the 37-year-old racer is reassured that when conflicts arise with his racing commitments, he is lucky enough to "have a wife that is very understanding." Calling her "an amazing wife and mother, the greatest mom on the planet," Jeff shares that Ingrid is completely dedicated to their daughter, and "wakes up every day at 7 a.m. and does everything that she possibly can for her little girl — our little girl — and for me."
When Jeff does find himself at home spending time with his family, the first time dad says the love he feels for Ella is indescribable — a feeling he is met with bright and early, each and every day. "Waking up every morning and seeing her look in your face. The love, there's nothing like it," Jeff told PEOPLE Wednesday, when he co-hosted the Pepsi 500 Running Wide Open party in Hollywood. Although Jeff — who does "everything I can to get home as often as I can" — admits to there possibly being more children in the couple's future, he wants to let people know that he is still accepting parenting tips!
"Everybody I know that becomes a parent reads every book they possibly can. Any advice I get, I'm going to take it!"
On Sunday, Jeff competed in the Pepsi 500 race, held in Fontana, California.
Source: People