Corey Feldman Shields Son Zen From the Media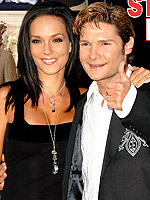 Photo by Scott Kirkland/INF.
Corey Feldman — known for his role in The Goonies — is no stranger to child actors, as he was one himself. However, when it comes to his 4-year-old son, the family's plans for Corey's reality show The Two Coreys, on which he stars alongside Corey Haim, are "to keep him as far away from the entertainment business as possible." Although Corey admits that the call to not have Zen Scott appear onscreen was actually "between the production company and the network," Corey and his wife, Susie, never had plans for Zen to make his big TV debut on the show. While Zen won't be shooting scenes in front of the cameras any time soon, Corey is quick to reassure that their toddler "was always five feet away" with his nanny and only a short "arms reach [away] between takes" — a decision which both parents call "obvious."
Fortunately for the family of three, while long work days were a must, the evenings were off-limits, as Corey explained that "the most important thing in a child's development when you have a mom and dad who are working twelve hours a day, six days a week, is that there's some consistency in their life and in their schedule. For us, that consistency was being able to spend time with him every night when we were done shooting."
Apart from a small glimpse of the back of Zen's head during the first episode, Corey, 37, is pleased that the media has been respectful of his wishes for his private life to stay just that — private. Although the actor is able to recall "maybe two times [Zen has] ended up on TMZ," he is very thankful that "for the most part, he's been very shielded and protected."
Source: PR