Ani DiFranco Says Writing Can Wait, Daughter Can Not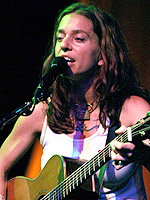 Tim Mosenfelder/Getty Images
Touring alongside her 20-month-old daughter Petah Lucia is actually easier than staying at home, Ani DiFranco says. "People say it takes a village to raise a child, and I have a little rolling village on the road," the 37-year-old singer and songwriter tells Mindful Mama. "It's really great…she just infuses everything with such joy." Aided by a nanny, Ani is able to hit the stage each and every night knowing full well that "there's all kinds of people around who entertain [Petah] and interact with her" when mother and daughter can't be together.
In addition, "the constantly changing landscape" is "very stimulating" for a baby, Ani feels. While the 'singer' section of her resume has been minimally impacted by motherhood, the same cannot be said for her work as a songwriter.
"Writing necessitates a lot of mental space as well as time, both of which you just don't have so much of in the early days of momhood. I'm just basically trying to not resist that. This is my time with her. And I can get back to writing…Right now, I need to really just be here."
The "glorious redundancy" of motherhood caught Ani by surprise, as well as her newfound capacity to love and care for not only her own child — but children everywhere. Noting that "we're all somebody's baby," Ani says that through Petah she's learned to "transfer that love and respect and caring to everybody's babies."
Click 'continue reading' for Ani's thoughts on her homebirth, her greatest wish for Petah, and video footage from the interview.
Ani's decision to pursue a homebirth with Petah was rooted not in a desire to "be independent," but was instead rooted in fears that she'd become intimidated in a hospital setting — something she feels would have been "really counter-productive." To that end, Ani likens a hospital birth with her experiences "making 20 records in awkward situations where I don't feel comfortable, and then [having] to sing." In choosing a homebirth, she says she was hoping to avoid "that moment when you're not really in your own skin."
"I didn't want to give birth to my baby, like I have given birth to some of my records…alone amongst strangers in an alien environment."
Her labor with Petah was "long and nightmarish," Ani says, leaving her with a broken tailbone and — to some extent — a bruised ego. "I went into it with a lot of expectations about the power and the beauty and the transformation" of childbirth, Ani reveals, "and then I was just scared, and hurt."
"I, myself, had a perception that I was very strong, and I thought it would be easy for me somehow. The fact of how hard it was made me feel like, maybe I'm not as strong as I thought, maybe I'm weak…So I sort of had to go through an ego recovery process."
Yet another "ego-awareness" lesson for Ani involved the realization that the self image issues she's struggled with throughout her life would be passed on to Petah, if she didn't address them now. "After she was born, she came out all scrunched and purple and puffy,and her father in classic form was like, 'Oh, she's the most beautifulthing ever!' and I was like, 'Oh my,'" Ani explains. "Then she proceeded to eat herselfto uncomfortable, dough-boy-like fatness for a while."
"I was looking at this little being and seeing my own facade reflected, and realizing how much self-hatred I have. I realized that to love her, and her face, I've got to learn to love my face. Lest I pass on…that self-hatred thing. I was like 'Okay, whew, time to deal with this.' I just want her to love herself."
Petah is Ani's child with partner Mike Napolitano.
Source: Mindful Mama