Trisha Yearwood Creates New Memories with Step-Daughters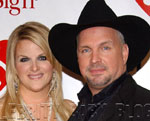 Jean-Paul Aussenard/WireImage
Writing the cookbook Georgia Cooking in an Oklahoma Kitchen with her sister and mother was a labor of love for Trisha Yearwood. Many of her fondest childhood memories take place in her mom's kitchen, and now the 43-year-old country singer — married since 2005 to Garth Brooks — says she's creating traditions of her own with step-daughters Taylor Mayne, 16, August Anna, 14, and Allie Colleen, 12.
"In Oklahoma, with the girls, we just want to find the excuse to get together and hang out, and that usually revolves around food. We didn't have big Fourth of July parties here in Georgia, but we do that now. It just happened accidentally because one year my family was out visiting in Oklahoma, and it happened to be Fourth of July weekend, so we cooked some ribs and said, 'We should do this every year.' So it's kind of a new tradition."
Taylor, August and Allie are Garth's children with ex-wife Sandy Mahl.
Source: Redbook