Members of Metallica Say Fatherhood Changed Their Outlook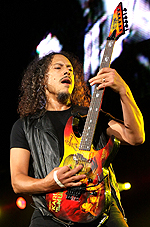 Getty Images
Times have definitely changed for the members of Metallica. As they prepare for the release of their new album Death Magnetic, the members of the band — Lars Ulrich, James Hetfield, Kirk Hammett and newcomer Rob Trujillo — say their music is no longer fueled by fast times, but is instead fueled by family. "It's powerful music," Rob says, "and I have to say, my inspiration this time is my kids. I have a 2-year-old and a 5-week-old." Lars agrees, telling the LA Times that the bond of fatherhood — which each member shares — has unified the group. He adds,
"That gives us more common ground and patience. Changing diapers changes your outlook."
It seems that, for some of the Metallica children, the apple hasn't fallen far from the tree. Lars' 10-year-old son Myles "loves" the game Guitar Hero, and although Lars is a drummer, father and son share similar musical tastes. "He's digging on Sabbath and Deep Purple and all the music I loved as a kid," Lars said.
In addition to Myles, Lars is dad to a 7-year-old son, Layne, with his ex-wife Skylar Satenstein and 15-month-old Bryce Thadeus with girlfriend Connie Nielsen. James is dad to daughters Cali Tee, 10, and Marcella Francesca, 6, as well as a son, Castor Virgil, 8, with wife Francesca Tomasi. Kirk has two sons, 22-month-old Angel Ray Keala and 9-week-old Vincenzo Kainalu with wife Lani. Rob has a 2-year-old son, Tai Orion, and an infant daughter, Lula, with wife Chloé Barthélémy.
Death Magnetic is due in stores Sept. 12.
Source: LA Times