Lollipop Zen Tees: Peace, Love and Lollipops Rule!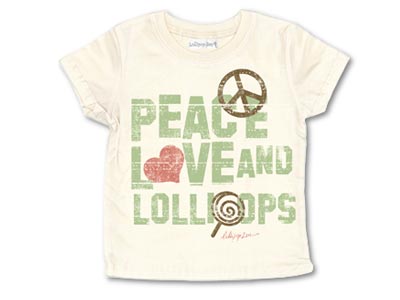 Peace, Love and Lollipops Tee
How you could NOT love Lollipop Zen's adorable tees that advocate peace, love and even lollipops? I love their organic Peace, Love, and Lollipops tee ($30). This 100% organic cotton tee comes in sizes 2T, 3T, and 4T (you can also purchase as an infant onesie). I love how soft it is and my toddler likes it because of the graphics (a peace sign, a heart and a lollipop; see photo at left). Liv Freundlich, daughter of Julianne Moore, was recently spotted in Lollipop Zen's World Splatter Peace Tee ($35) in pink while riding around Manhattan on her scooter with her mom and brother.
My baby daughter looks adorable in her World Peace Burnout 2008 Teein pink ($35). It also comes in baby blue, black and white, Sizesavailable are 3-6m, 6-12m, 12-18m, 2t, 3t, and 4t. This tee has beenseen on Pax Jolie-Pitt and Shiloh Jolie-Pitt. You can also get a matching Mommy Tee in black ($38).
They have some adorable onesies available. Check out their 100% cotton Zen Lollipop Onesie ($32) – which comes in pink, slate gray or navy. Sizes available are 3-6m, 6-12m and 12-18m. I also liked their World Peace Onesie($32), which has graphics of a world plus peace equals a lollipop. Itcomes in gray with either pink or white graphics, pink or navy.
Other celeb fans of this brand are Gwen Stefani, Sheryl Crow, Matthew McConaughey, Jenna Elfman, Samantha Harris, Christy Turlington Burns, Gwyneth Paltrow, Courteney Cox-Arquette and Victoria Beckham.
Deal: Use coupon code SAVE25 to save 25%.
— Nancy