Kevin Nealon Back in Pre-Pregnancy Jeans!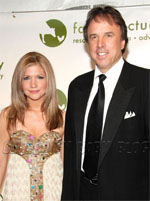 Gary Gershoff/WireImage
When actor Kevin Nealon's actress wife Susan Yeagley became pregnant, he was fully prepared to deal with everything from the pregnancy cravings to the weight gain right along with Susan — even if that meant buying some maternity jeans for himself! Kevin, who now more than a year later is "barely able to fit back into my pre-pregnancy jeans," jokingly shared that he went the whole nine yards buying "those jeans with the elastic stretch band along the waist" and ankles as he "was getting cankles." Not only was the Weeds star dealing with sympathy weight gain due to his "major craving" of food in general, he also experienced strange pregnancy cravings as well — including Old Spice After Shave lotion! While he admits that he didn't go as far as to drink it, he did apply it "in heavy doses throughout the day and evening," saying the distinct smell led him back to his own childhood when he would smell it on his father.
Like many nervous new dads, Kevin faced his fear for the "health and well-being of my wife and child" throughout the pregnancy and dealt with it "as most people would: I stuffed my face with as much food as possible." As the ex-Saturday Night Live actor playfully wondered "whose baby is it really" (although is quick to reassure that his son is "nobody's love child but mine"), he also tried to come to terms with his greatest fear: the placenta! Luckily for Kevin though, he managed to "make it through the sight of blood, your wife's discomfort, and the immediacy of the situation" and found himself in a "surreal euphoric state" while catching "a glimpse into the world of the miracle of life." Says Kevin,
"It's very simple, you are born, you reproduce, you die, and your offspring continues the cycle. There are, of course, lots of fun times in between."
Click below to read why Kevin finds it ironic that he and Susan are now getting more sleep!
When the couple's son Gable Ness finally arrived 19 monthsago, the then 53-year-old father had no qualms about being an olderfirst-time dad. Comparing himself to "a computer that had been lyingaround for a long time uploading information [and] wisdom," when Susanbecame pregnant, Kevin was able to "start downloading and applying" itall to his own family. That information had the dad thinking he wouldbe facing many sleepless nights, but according to Kevin, the arrival ofhis son caused the exact opposite!
Saying he "ironically" is gettingmore sleep, he shares that "we go to bed about 9 p.m. every night andup around 6 a.m." and while this routine works great for the couple, itleaves little "me time!" Kevin admits to thinking that putting Gable tobed early meant time alone in the evening, but shares that "quitefrankly, I find myself too exhausted to do anything by then andgenerally go to bed shortly after him."
Kevin's book, Yes, You're Pregnant, But What About Me?, is in stores now.
Source: The Cradle