Kate Moss Saves Her Designer Duds for Daughter Lila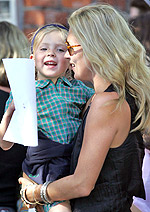 BIG PICTURES/Bauer-Griffin
Most kids get awarded new toys or special treats for eating their dinner, but for Kate Moss' daughter, a clean plate at mealtime means a closet full of expensive clothes! Sitting down with Interview, the 34-year-old model shares keeping "all those Pucci numbers and things that I wore when I was seventeen" in storage has really come in handy when it comes to negotiating with her daughter Lila Grace. Calling the clothes "blackmail," Kate jokes that Lila has become a "fashion freak" after realizing that if she doesn't finish all of her food, she won't grow — and if she doesn't grow, she won't fit into any of her mommy's designer duds!
Apart from being a mini-fashionista in the coming years, 5 ½-year-old Lila — who Kate says "likes older boys" — also has been discussing another important topic with Kate…marriage! According to Kate, her daughter "says she's going to get married three times," and already has revealed to her mom the identities of those lucky men. And although Kate says that she doesn't host house parties anymore since her main focus is on her daughter, Lila does not shy away from adults, but rather strikes up a chat with them. Kate explains,
"She's really frightening. Well not frightening, but much more outspoken than I was as a child. She hangs out with adults a lot. So she's really confident around adults and can have a conversation with them."
Lila is Kate's daughter with ex-boyfriend Jefferson Hack.
Source: Interview Magazine