Ivanka Trump In "No Rush" to Have Children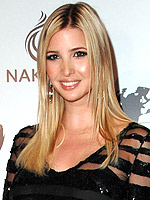 Steve Granitz/WireImage
Between her career as Vice President of Real Estate Development and Acquisitions at the Trump Organization and her latest venture, that of jewelry designer for the Ivanka Trump Collection, 26-year-old Ivanka Trump has more than enough to keep her busy. When asked by Page Six magazine whether she intends to slow down long enough to pursue a family with boyfriend Jared Kushner, Ivanka says yes — but not anytime soon.
"I'm not looking to get married now. I have a lot on my plate. I would love to have children but I am certainly in no rush."
Ivanka is the daughter of Ivana and Donald Trump.
Source: Page Six Magazine