Sandi Thom Wants a Baby Sooner Rather Than Later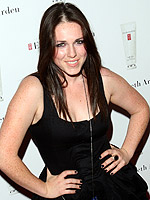 Matrix/Flynet
Spending some time with her boyfriend's newborn nephew has left Sandi Thom longing for a baby of her own, she tells the Daily Record. "I wouldn't mind if, in the next year, I ended up falling pregnant," the 27-year-old Scottish singer says, "the prospect of having a child is there and I am happy with it…28 is a sensible age to have a baby." What remains to be seen is whether a cervical cancer scare Sandi experienced as a teenager will impede her efforts to become pregnant. She explains,
"I had pre-cancerous cells developing so I had laser surgery to have tissue removed, which was really awful and frightening. You don't expect things like that as a teenager."
Sandi and her boyfriend Jake Fields have been dating for three years.
Source: Daily Record