Paloma Schwarzer Laments the Life of a Footballers Wife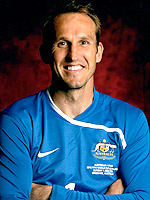 Robert Cianflone/Getty Images
From the outside looking in, the life of a footballers wife and children seems glamorous and exciting but for Paloma Schwarzer — married since June 1998 to Mark Schwarzer, an Australian goalkeeper currently playing in the English Premier League — the reality is sometimes different from the perception. Paloma says she's become accustomed to a lifetime of family finishing second, while "football comes first." She adds,
"It's always been that way…The kids and I do everything ourselves. We don't feel hardly done by. It's just the way it is."
At no time was that more apparent than during Paloma's pregnancy with her daughter Amaya, now 7. While the couple's son Julian, 8, nursed a particularly nasty virus Paloma spent a sleepless week caring for him — before she, herself, fell ill. "It was a Friday morning and Mark was supposed to travel to Liverpool for an away game and I was throwing up in the bathroom, sick as a dog, with a fever," Paloma recalls, "We didn't have any friends. We had no one here who I felt safe to leave Julian with so I could just lie in bed. We just carried on. Off he went." The excessive travel of footballers is equally difficult for their children, Paloma says. Training camps for the 2006 World Cup kept the players away from home for almost an entire summer; only three days were set aside for visits from family and friends. Says Paloma,
"Leaving the team hotel [after those visits] was horrific. There would be children crying, looking out the bus window. Little girls sobbing and crying, 'I want my daddy!'"
Despite the difficulties, Paloma says she and Mark's children understand and accept that his career is temporary. "It will come to an end one day, which makes you appreciate it a lot more," she says.
Source: Sydney Morning Herald
Have you ever had to take care of sick kids while sick yourself? How did you cope?