Luis Miguel, Aracely Arambula Reportedly Expecting a Daughter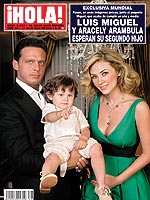 Associated Press
Update: People en Espanol is reporting that sources for a Mexican magazine say that the baby is a girl and is actually due in January. According to the source, Aracely "underwent special treatments" to ensure that their second child would be a baby girl — however, we're not sure what that reportedly entails!
Originally posted July 9th: Latin pop star Luis Miguel, 38, and his girlfriend, former actress and singer Aracely Arambula, 33, are expecting their second child together. Baby-on-the-way — who will join big brother Miguel Gallego Arambula, 18-months, at home — will be a delivery surprise, and is due in December. "I prefer not to know [the sex]," Aracely tells Hola, "Whatever God wants is fine."
Source: Hola
Thanks to CBB reader Priscilla.