It's a Sweet Pregnancy for Alison Sweeney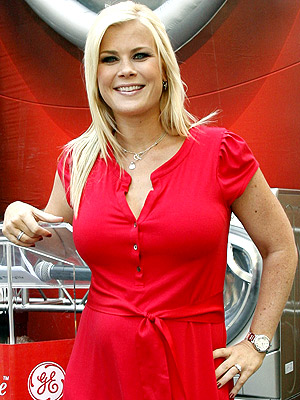 Stuart Ramson/StarTraks
When a woman is pregnant, you never know what cravings she'll experience! In Alison Sweeney's case, all she wants is sweets — the total opposite of her first pregnancy, where she craved "savory things," she told People at an auction of celeb-donated jeans for Clothes Off Our Back on Tuesday, August 26th. Her doctor recommended that Alison purchase fruit from the local farmer's market to help fight that sweet tooth, so the Days of Our Lives actress bought a cantaloupe but "I had to stop myself from eating the whole thing. I cut it up and put it in this big bowl and then next thing I knew, half of it was gone." The Biggest Loser host is just excited that she is finally able to look at food and not get sick because the morning sickness "was brutal" during those first few months of pregnancy, so much so that Alison couldn't eat her favorite foods.
"I would order my favorite things from restaurants, and I would get it and say, 'Get that thing away from me.' Grilled chicken or tomatoes would be the worst. I would tell my husband to get it away from me. All I wanted was Cheerios –- it was all I could eat for two months."
Now that 31-year-old's morning sickness has subsided, she's focusing on staying healthy during her final expectant months. Alison knows that pregnancy is "really the only time in your life that you're supposed to gain weight," but she thinks that people sometimes forget that even though you are eating for two that "it's not the same — you have to remember that one of the two is only five ounces." To make sure that she doesn't gain too much weight, Alison is taking a spinning class taught by The Biggest Loser costar Bob Harper. In fact, she is "addicted to that" because "everyday is different, and you can shake it up every day."
Alison and her husband Dave Sanov are also parents to son Benjamin Edward, 3 ½. They expect their baby girl on January 20th.
Source: People
Did you experience cravings while pregnant? If so, what?