You Said It: Five Great Comments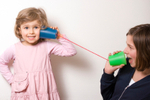 CBB was once again buzzing with commentary this week, on everythingfrom young mothers and manners to health situations and breastfeeding. You all had a lot to say, and we loved readingevery word. Here are some of our favorite comments from the week:
Posted by Ellie on Kelly Rutherford Minds Her Manners With Hermès:
I agree Brie, my eldest daughter is verypolite — we taught her that you need to say excuse me if you wantsomeone's attention and now she says "'scuse 'e" before she startssaying anything! Her other over used phrase is "I love Hatty lots and lots" or "Hatty I love you" Hatty is her little sister. I'm a manners maketh man kinda person so I always say thank you orplease to other people, and my children, and I expect it back.Alexandra's first sentence was 'drink please' followed closely by 'fankyou mummy.'
Posted by CTBmom on Rainn Wilson Doesn't Find Son Relaxing:
LOL. I love Rainn's response! I felt thesame when my son was that age. He was so active, and while I had somuch fun with him, I definitely would not have called spending timewith him relaxing. There were moments here and there, like sometimesafter his bath right before bed, that he was calm, and we would justsnuggle….but mostly, he was a little man on the go!🙂
Click "More" for three additional comments!
Posted by SH on Charlotte Church Loves Being a Homemaker:
I wouldn't judge a woman who wants tobreastfeed their child until 5 years old, just like I wouldn't judgea woman who wants to stop at 6 weeks. Everyone is different andbreastfeeding is a very personal thing between a mother and her child.It's not for everyone and everyone has their reasons for doing/notdoing it. I personally breastfed all my kids until they were ready towean on their own — 15 months, 13 months, 14 months — and am currentlybreastfeeding another. I was pregnant again when all of them weaned soI am a firm believer in the fact that the milk takes on a differenttaste when I'm pregnant. I also don't think there's ANYTHING wrong witha toddler breastfeeding. It takes a loving relationship between amother and child to do that, and what's wrong with that? To each hisown!!
Posted by MB on Around the Web:
I agree BFing Mama. I feel like the articlewas set up to look like breastfeeding could cause rickets. You have toread farther to say that it's the deficiency, and that the deficiencycan be caused by too much juice or too much time indoors.
The take home message? Doctors just need to remind moms who aregoing to breastfeed to take (or keep taking) supplements and make suretheir children get time outside. The mother of that girl did nothingwrong by breastfeeding; she just didn't apparently know to be takingvitamins. Likewise, I don't think that doctors telling moms to takevitamins would keep them from breastfeeding, like the one doctor seemedconcerned about.
Studies I read when researching breastfeeding for a class last yearshowed that most women decide whether they will breastfeed beforecoming to the hospital to deliver their babies. Introducing the needfor vitamins is not likely to dissuade moms who are committed to tryingout breastfeeding from doing so.
Posted by Stella on Javier Vázquez Talks About Daughter's Diabetes:
I'm a type 1 diabetic, too, but was diagnosed later in life, so ididn't suffer as a child. From my point of view the most importantthing is to make it possible for the kids to lead an almost normallife. Another point is raising awareness in other people that diabeticpeople can almost live normal lives with a limitations, but that stufflike not giving a diabetic kid a normal Coke instead of a Diet Coke isimportant, and the more other people know about diabetes, hypoglycemiaand dangerous situations the more can parents relax, and the childrenthen lead a happy life. Of course there's the point that insurancecompanies should cover devices like continuous blood glucose monitoringand insulin pumps, too!
Read a comment you found extremely insightful or useful? Tell us about it! E-mail your favorites to cbbtips@gmail.com.