Sandy 'Pepa' Denton Keeps an Open Dialogue with Kids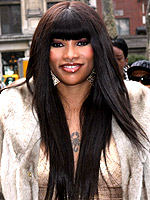 Landov
In her new autobiography Let's Talk About Pep, Sandy Denton — aka 'Pepa' from the '80s rap group Salt-N-Pepa — opens up about a lifetime of enduring, and ultimately overcoming, abuse. Pepa says that she hopes that that cycle will end with her two children, both of whom witnessed her being verbally abused by her ex-husband Anthony 'Treach' Criss, from Naughty by Nature. "People forget that verbal abuse is equally unhealthy [as physical abuse]," she says, "My kids used to see me crying and depressed all the time, and that can affect kids as well." As a result Pepa's daughter Egypt, turning 10 next week, has become understandably hypersensitive to her mom's moods.
"Now, if I get a little down or sad and my daughter notices and asks whether I'm okay, I say, 'Yes, I'm fine. Mommy's just trying to figure something out.' She doesn't like it when I act antsy or confused, so I have to say to myself, 'Okay, let me relax.'"
Pepa's 18-year-old son Tyran is "a really decent guy," she says with pride. "I constantly talk to him about how to treat a woman…He tells me everything." Keeping that open line of communication with both kids remains a priority. A victim of sexual abuse as a child, Pepa says she suffered in silence because she wasn't comfortable going to her parents with the truth. "I promised myself that if I ever had kids, I would be open with them," she says.
"Because of the molestation I experienced as a child, I feel nervous for [Egypt], so I make sure to ask her those questions…I always have to tell her that she has to tell me if anyone bothers her, and that I won't be mad at her because I love her, because silence kills and people who abuse depend on their victim's silence as a tool to continue to victimize others."
Egypt is Pepa's daughter with Treach; Tyran is her son with a former boyfriend.
Source: Essence