Don Cheadle Doesn't Want to Miss a Thing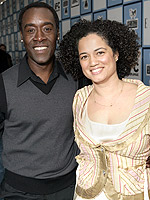 Todd Williamson/WireImage
While filming Hotel Rwanda, Don Cheadle was able to bring daughters Ayana Tai, turning 14 next month, and Imani, 12, along for the shoot. In fact, he even enrolled both girls in an African school — something "they loved," he says. But his latest film — Traitor, due in theaters August 27th — took Don to multiple, far-off locales around the world, making travel impractical for the girls. In a new interview with New York magazine, Don notes that making movies was "easier when the girls were younger, because we could take them with us." But Traitor involved "way too much traveling," Don says, adding "I'm not doing that again."
"This was the longest time I'd ever been away from my family, and it was too long. Especially when my kids are this age, so much changes in a few months, and I can't miss that."
Ayana and Imani are Don's children with longtime partner Bridgid Coulter.
Source: New York