Sunkist Naturals: Get Juiced Up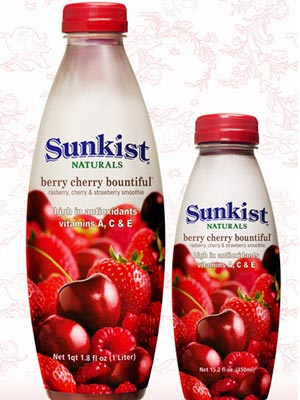 Sunkist Naturals Berry Cherry Bountiful
Back in my pre-baby life, I lived in a cute little college town with the cutest little cafe just a few doors down that made the best smoothies. I'm not the most motivated woman in the kitchen; the odds of me whipping out a blender and whipping up a smoothie are pretty much slim to none, so since we moved my smoothie intake has become all but nonexistent. I recently got the chance to try out a brand new line of smoothies from Sunkist Naturals, however, and I think the tides may be turning!
There are 8 flavors to choose from — Strawberry Dream, 100% Valencia Orange, Glorious Greens, Sunshine Carrot, Golden Mango, Berry Blue Bountiful, Orange Cream and Berry Cherry Bountiful. I honestly loved them all, but the Valencia Orange and the Berry Cherry Bountiful were my absolute favorites.
Each flavor is packed with vitamins and nutrients. Glorious Greens, for example, is made of apples, kiwis and 15 good-for-you greens like flax seed and green tea; it is Vegan, heart-healthy courtesy of Omega 3-EPA & DHA and contains no added sugar. I'll admit, the thought of drinking 'greens' seemed anything but 'glorious' to me but I couldn't have been more wrong. It's delicious. The bold taste is due no doubt to Sunkist Naturals decision to use only the best fruits and vegetables in their smoothies. Golden Mango is made with the renowned Alphonso mangoes of Maharastra, Western India, while Berry Blue Bountiful is made with Marion blueberries farmed in Oregon and Michigan!
Feel free to stock up. Sunkist Naturals smoothies are flash pasteurized and cold aseptic filled, which gives them an extended shelf life of 60 days. If you're a smoothie fan like me but not inclined to make your own, or if you're just ready to reach for a healthier alternative the next time you open the fridge, I think you'll really, really like this brand. Sunkist Naturals smoothies are available in the refrigerated produce section of supermarkets across the country.