My Plate-Mate for Kids: More Bites, Less Mess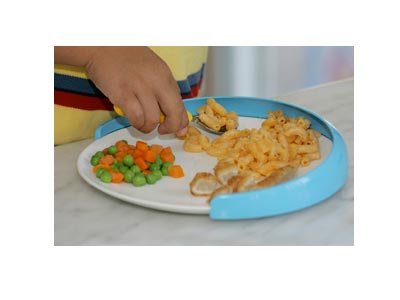 My Plate-Mate for Kids
My Plate-Mate ($7.95), which is a simple, curved piece of plastic — that snaps on tothe side of a plate to help kids push food on their fork — is one ofthose "where've YOU been?" products I'm glad to have finally found,albeit five years and three kids into the game.
I've been watching my five-year-old chase his eggplant parmesan(yeah, but, it's one of only three dinner foods he'll eat) around hisplate for so long. Some bites make it in, but too many end up beingforced off the plank, onto the table and floor. I tried giving him adull knife to help — no luck. It was even more frustrating for him touse both utensils (and for me to watch).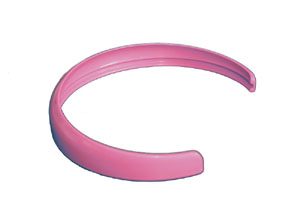 My Plate-Mate, which resembles a headband, snapped on easily to ourceramic, 9-inch plate. And with very little instruction — if any — hewas off and running, using it to maneuver bites onto his fork like ithad always been there. We tried it with macaroni and cheese on asmaller, plastic plate with my three-year-old son (it's marketed forages 2 and up) who also barely noticed it was there and used it like apro, pushing slippery noodles up against the Plate-Mate and watchingthem fall back onto his spoon.
The lightweight Plate-Mate is easy to throw into a bag forrestaurant dining (or eating at nervous grandparents' houses) and abreeze to clean. Made of FDA-approved food grade plastic-free fromlead, PVC, polycarbonates, bisphenol-a (BPA) and phthalates — it'sdishwasher safe and comes in three colors: pink, blue and white. (Weused white, and so far no tomato-sauce stains.) It fits any round platewith a 8"-9 1/2" diameter. It was just awarded the 2008 OutstandingProduct Award from iParenting Media Co., a subsidiary of Disney Online.
— Danielle D.