Jane Kaczmarek Talks Chaos and Kids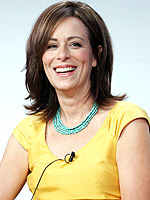 Jordan Strauss/WireImage
Actors Jane Kaczmarek and Bradley Whitford have both enjoyed successful television careers, but the small screen plays a very small part in the lives of their children Frances, 11, George, 8, and Mary Louisa, 5 ½. Jane — who can next be seen in the TNT original series Raising The Bar — says that the couple has just one television in their house, and it's off-limits to the kids during the week. "There's so much chaos in the house with children, who needs more on TV?" she asks, adding,
We relax the rules on weekends and in summer, and they can watch things like The Pink Panther and a boxed set we have of Get Smart.
Jane, 52, and Bradley, 48, were married in 1992.
Source: Parade