How Jada Pinkett Smith Keeps Kids On Right Path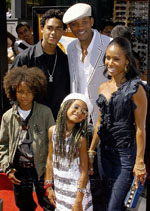 Splash News
With her children starring in box office hits and growing up with two famous parents, Jada Pinkett Smith is determined to not let the Hollywood scene lead her kids down the wrong path. Admitting she probably would not have survived as a young celebrity herself, Jada claims that "it would blow your mind" to know "the things I have to talk to my children about at such a young age."
As the hip-hop industry becomes more influential and movie roles continue to stereotype women, Jada wants to ensure families aren't swayed by these messages — especially young boys. She explains, "I think as mothers, with the music and the media out there, we really have to sit our boys down and tell them, 'That is not okay.'" When it comes to 7-year-old Willow Camille Reign, the 36-year-old mom admits to having "to constantly reassure my daughter that she is beautiful." As for her boys — Jaden Christopher Syre, 10, and Trey, 15 (whose mom is Will's ex-wife Sheree) — they too need to be aware of the right way to treat women as Jada spends time "to teach my sons a different thought process when it comes to how they view women." Luckily for Jada, her husband Will Smith — who she calls a definite feminist — supports her completely with Jada saying, "Will really values the feminine."
Common as it is these days to see two parents working in the household, Jada thinks that it is important for kids to realize that their parents share responsibilities outside the home — a message that her children have already learned. Says Jada,
It's funny because I remember telling my kids, 'Mommy isn't going to be doing any more movies this year.' You know what they said? 'But how are we going to pay the bills?' It was cute, but more important, they see a household where both parents contribute.
Jada's new movie The Women is set for release on September 12th.
Source: Capitol File Magazine