Diane Farr Welcomes Twins Sawyer Lucia and Coco Trinity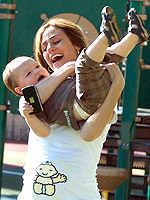 Splash News
Diane Farr and husband Seung Chung welcomed twin daughters on Wednesday, August 27th, at Cedars-Sinai Medical Center in Los Angeles. Sawyer Lucia weighed in at 4 lb.s, 12 oz. while Coco Trinity, born one minute later, weighed in at 5 lbs., 14 oz. Both were 19 inches long.
Diane and Seung shared that the names have deep personal meaning; Sawyer is a family name on the Farr side, while Coco is named after an island in the Maldives that the couple visited during their honeymoon in 2006.
In an exclusive statement to People.com, Diane thanked her midwife and the doctor who tended to her during the births of her "little ladies," adding,
I'm really glad that I got to 36 weeks with multiples.
The new babies — who will enjoy a ballerina-themed nursery — join big brother Beckett Mancuso, 17 months, at home. The pregnancy was revealed in April, with Diane sharing that it was believed the girls are identical.
Source: People
Thanks to CBB readers Ashley, Riona, Kathy, Shanya and Jessie.