DeMarcus Ware Opens Up About Life With Marley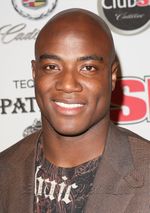 Jason Merritt/WireImage
For years, Dallas Cowboy DeMarcus Ware and his wife Taniqua dreamed of having a baby. When they were unable, they turned to adoption — and haven't looked back since. Their daughter Marley, 5 ½-months, has completely changed the 26-year-old linebacker's perspective on life. Says DeMarcus,
"You are so happy because you have a little bundle of joy in your life. I even find myself going to Wal-Mart looking for little toys. When I'm going grocery shopping looking for food, I'm getting baby food instead of food for myself."
Marley's adoption unfolded over a series of weeks under bittersweet circumstances, for the Wares were still reeling from Taniqua's second miscarriage — which followed the stillbirth of the couple's son Omar in 2006. "Everything happened so fast," Taniqua says, "the timing of it all definitely shows she was meant to be ours." DeMarcus, who was raised in a single parent household, agrees and says that since welcoming his daughter he's learned not only about the responsibility of fatherhood, but also "how important a child is, and how much happiness a child can bring to a family."
Source: Dallas News