Second Pregnancy is "Completely Different" for Alison Sweeney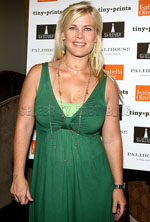 Maury Phillips/WireImage
When Alison Sweeney became pregnant with her second child — a girl due in January — she was sure she had the pregnancy routine down after going through it with her first child, Benjamin Edward, 3 ½. The actress — who dealt with more morning sickness this time around — was quick to realize, however, that "each pregnancy is a completely different experience." As Alison reaches the halfway point of her pregnancy, she's taking her time "re-reading all the pregnancy books," refreshing her mind about another major upcoming change: life with a newborn. While the Days of Our Lives actress admits that her son's baby days weren't that long ago, time has gone by quickly and to her "it seems like forever since I've dealt with a newborn!"
One thing Alison does remember clearly is finding out her son weighed only 7 ½ pounds and realizing she "was in for a tough road" when it came to getting her pre-baby shape back. Saying she is not one of those "women who don't seem pregnant at all except for their bump," the 31-year-old is staying healthy during this pregnancy by "maintaining my workouts and trying not to give in to the cravings" — which Alison says is not necessarily for her body's sake but "for the health of the baby" too. Recalling the weight loss with her first child, Alison's goal was to "focus on nutrition more than exercise" and credits the balance she found between "not starving myself or pushing myself into a super-strict diet that I would give up on," with "trying to stay on a healthy plan to getting my body back."
Click 'More' for tricks Alison uses to keep her energy up!
Reiterating that "balance is what it's all about," Alison alsoshares some tricks to keeping her energy up which is key in dealingwith her busy work schedule and her toddler son all while pregnant!While staying active and "making sure that I fit in my exerciseroutine" is "crucial" for her demanding schedule, Alison also warnswhat people should stay away from — going as far as calling processedsugar "deadly" for those in need of a boost. Instead, "when all elsefails," Alison can be found with "two pages of my favorite book" beforeenjoying a cat nap.
With her role on Days of Our Lives and her job as host of The Biggest Loser,Alison says her TV future will be decided by "what works best for myfamily." For now, Alison is focused on welcoming the newest additionand is "looking forward to seeing Ben's reaction to the new baby,"saying their bond "will make this whole experience completely new anddifferent" for the proud parents.
Alison's husband and the children's father is David Sanov.
Source: The Cradle