Wee Generation Eco-Diaper Bag: An Earth-Friendly Alternative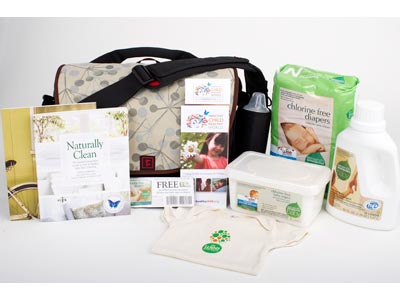 Wee Generation Eco-Diaper Bag
Being green just got a little easier for moms. Wee Generation (a company comprised of eco-warriors including Seventh Generation, Healthy Child World and William McDonough) has created a limited-edition Eco-Diaper Bag that's environmentally-friendly inside and out.
The fabric is made of 100% recycled plastic bottles, it has a PVC-free waterproof liner, stroller attachment straps and all the other pockets, bells and whistles you need in a diaper bag.
The price, $200, is a little steep, but consider this—in addition to the bag, it's stuffed with $100 worth of green products, a copy of Naturally Clean, the Seventh Generation Guide to Safe and Healthy Non-Toxic Cleaning (plus coupons), a Wee Generation baby tee and more. Plus, 100% of the profits benefits Healthy Child World, a childrens environmental health and eco-advocacy non-profit organization.
The bags, which come in several patterns, are only available until the end of 2008.
— Danielle D.