The Banana Splits Back on TV!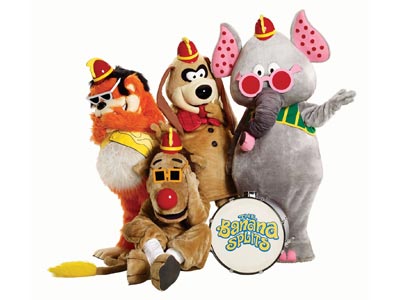 The Banana Splits
The Banana Splits, the hugely popular costumed rock band from the '60s, isback! Beloved by Baby Boomers for their fun combo of kid-style comedy andcontemporary music – including the one and only Tra La La song! – the'Splits are a costumed rock band made up of Fleegle (a dog), Drooper (alion), Bingo (a gorilla) and Snorky (an elephant). They came onto the scenein 1968 as hosts of "The Banana Splits Adventure Hour."
Starting September 2, The Banana Splits will star in brand new comedy shortsand music videos on Cartoon Network and Boomerang. Kids can also check outthe all-new 'Splits website, www.bananasplits.com, to watch comedy shortsand music videos, play games and join the Banana Splits club.
Watch this clip, available only on CBB!
Want Banana Splits on the go? Download their music and music videos oniTunes or amazon.com.